iKeyMonitor is a spy tools for Android that helps employers and parents to control their employees' and children's devices and gadgets. iKeyMonitor allows you to track actions performed on the device, namely: SMS received and sent, voice messages; chats in social networks and instant messengers; GPS location change, and more.
iKeyMonitor is compatible with both iOS and Android. In this review we will talk about the Android version of this keylogger.
Android keylogger is an app for phones and tablets with Android OS intended for keystrokes recording. Modern keyloggers for Android have much broader functionality than before. In particular, almost all products of this class can intercept incoming and outgoing SMS or messages sent via various instant messengers and social networks; many have a device location tracking system, can interact with the device's camera, and much more.
iKeyMonitor can be used on Android devices with or without root access. However, when working on devices without root access, the following functions of the program will be unavailable:
screenshots of chat applications, visited sites and viewed videos;
activity in social networking applications.
Features
Let's study the functionality of this Android tracking application in more detail.
Invisible monitoring and protection of your data from unauthorized access
The iKeyMonitor tracking app provides stealth, secure and confidential monitoring. All data are password protected. You can also set up an access code or a special URL as an extra measure, which provides additional protection against unauthorized access. If your Android device has root access, you can turn iKeyMonitor into a system application to prevent its unauthorized deletion.
Registering keystrokes
iKeyMonitor keylogger keeps track of everything that the user is typing on the target Android device, including pasting text from the clipboard in any application. So, you can see the full picture of what is happening on your device.
Voice Call Tracking
Recording incoming and outgoing calls
iKeyMonitor's call recorder stealthily and securely records incoming and outgoing calls made on Android devices. Afterwards, you will be able to listen to all recorded conversations online, from a remote device. In addition to the call itself, the contact details of the caller and the date/time of the call are also saved.
Call History Tracking
iKeyMonitor keeps track of call history, providing you with detailed information about all incoming and outgoing calls.
Voice recording
In addition to recording voice calls, iKeyMonitor provides the ability to record voice messages. The Android version of this monitoring software currently supports voice logging in WhatsApp, QQ and WeChat.
SMS and instant messengers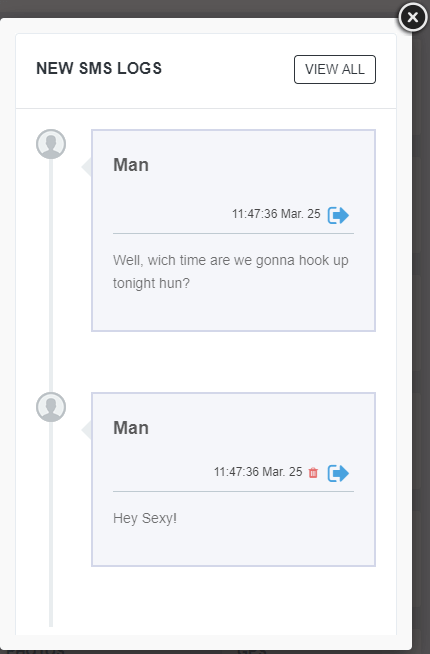 In addition to tracking SMS (which includes content of the messages, the history of SMS chats, the date/time the message was sent or received, contacts of the senders and recipients, as well as the function of restoring deleted messages), iKeyMonitor can boast of tracking a really large number of different chat messages.


The supported apps include: Facebook, Skype, WhatsApp, Telegram, Instagram, Snapchat, WeChat, Gmail App, Line, Kik, Viber, Hangouts, QQ, IMO, Tinder, BBM, Hike, Odnoklassniki, KakaoTalk, Zalo. In almost all of the above applications, iKeyMonitor keylogger records all keystrokes, all sent and received messages (with attachments and the time of sending or receiving). Root access is often required to take screenshots of chats and get contact information of the recipient and the sender. You can learn more detailed information about how iKeyMonitor works with a specific chat application or instant messenger on the developer's website https://ikeymonitor.com/features
Tracking network activity and email usage
Email Tracking
iKeyMonitor monitors use of the email application on the device, registering all the text typed by its user, taking screenshots, as well as recording the contents of the emails along with the recipient, the date and time of sending. Monitoring use of e-mail can be a very useful function for employers, since it allows you to prevent leaks of confidential data.
Tracking visited web pages
iKeyMonitor registers web pages viewed in Chrome browser of the target Android device, including: titles of the pages, URLs, the date and time of the visit. In addition, on a device with root access, this web browsing tracker can take screenshots of visited sites.
Tracking camera usage
Camera use monitoring
iKeyMonitor tracks new photos taken by the camera, or screenshots stored in the photo album. Tracking new images allows you to show mobile activity that can't be registered by intercepting texts and voice.
Remote camera capture
iKeyMonitor allows you to take photos from the camera of your Android device remotely. You simply turn on the camera, take a picture from the main or front camera and view the resulting photos in your account in the cloud control panel.
Time management using an Android device
The functions of blocking applications or games and limiting the time of the device use allows you to set flexible rules of time limits for use of an application or group of applications. This feature allows you to block use of certain applications completely, or at a certain time (sleep time, homework time); set the maximum daily time for the application; block applications for a certain time after a pre-set time of use. It's a very useful feature for parental control over the time of use of the phone – for example, you can combine all instant messengers and chat applications and set a limit on their daily use.
Tracking the location of Android devices by GPS
GPS tracking
iKeyMonitor tracks location of the target device at specified intervals by means of GPS, which allows you to know current location of your devices, along with when and where they were moved. GPS tracking is a great feature for determining location of children or searching for lost Android devices.
Virtual geo fence
A geo fence is a virtual geographic boundary that you place on the map. This keylogger feature allows you to find out whether your children or employees leave a certain geographic area. As soon as your device leaves the geofences you set, you will receive an email alert.
Other features of iKeyMonitor
This keylogger allows you to view clipboard history. This function allows, in addition to the copied text itself, to save the name of the application, from which this text was copied. You can also track the changes in the Calendar application. iKeyMonitor also has the backup feature of your phone and email contacts.
If you have root access, you will be able to take screenshots. You will be able to take screenshots of the phone screen at a certain interval; upon detection of a set of key words; when detecting actions with a touch screen; when the user runs certain applications or opens certain sites; when a user views a photo or video file.
You can receive log files remotely via email or view all the information received from an Android device online in the iKeyMonitor panel. Also, using this panel, you can enable and disable monitoring on the selected device or change keylogging settings.
Advantages
Free trial
A huge set of functions
Demo mode
Disadvantages
Errors in the localization
A little confusing control panel
High price
Summary
Author Rating
Software Name
Operating System
Software Category
Keylogger, Employee Monitoring, Parental Control, Phone Tracker
Price